Gruuv helps companies create high impact mobile and video advertising at half the cost.
Fast and Easy
Simple drag-n-drop video ad builder creates brand-ready, high-impact creative and ad tags. No coding or Photoshop experience required.
Multiple Video Formats
Fully responsive, interactive in stream, interstitial, native and custom video ads available in VAST, VPAID, MRAID, HTML5 and Desktop ad formats.
VPAID Now
Create and deliver industry standard VPAID interactive mobile ad units today. Access full VPAID event reporting. Find certified mobile VPAID supply.
Programmatic Scale
Certified ad creative and ad tags that work reliably across apps, websites and networks. Gruuv handles the adtech so you don't have to.
Features That Power Scalable, High Impact Creative.
Fully Responsive, Dynamic Rendering

Ad creative that automatically re-adjusts to fit the placement or screen size on any device- Mobile or Desktop.

Rich Interactivity Options

Add one or multiple touch points to any video. Drive immersive product engagement with a fully interactive video end card.

The Most Video Formats

Supports In-stream, Pre-roll, Interstitial, Native, InFeed and 360° video Build once, serve to all placements.

Programmatic Scalabilty

Our ads are built to deliver with lightweight code, leveraging industry standards. Gruuv inventory certification ensures reliable playback on most supply networks and ad SDKs.

Full Video Encoding and Transcoding

Gruuv transcodes all video into multiple video formats, bitrates and sizes so that playback on any device will be fast and high quality. Formats include mp4, 3gp, flv and jsv+mp3.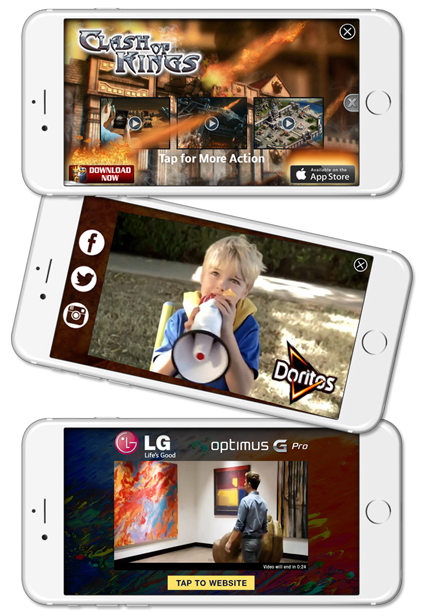 Video Ad Gallery
Build engaging video creative formats like these in just minutes. All ads are fully responsive and available for In Stream, Interstitial, Native and HTML5 environments.
Introducing Video Ad Builder 2.0
A full service platform for interactive video ad creation, VPAID/MRAID/VAST ad tag generation and rich reporting. Its the easiest, fastest way to create and deliver interactive mobile video advertising.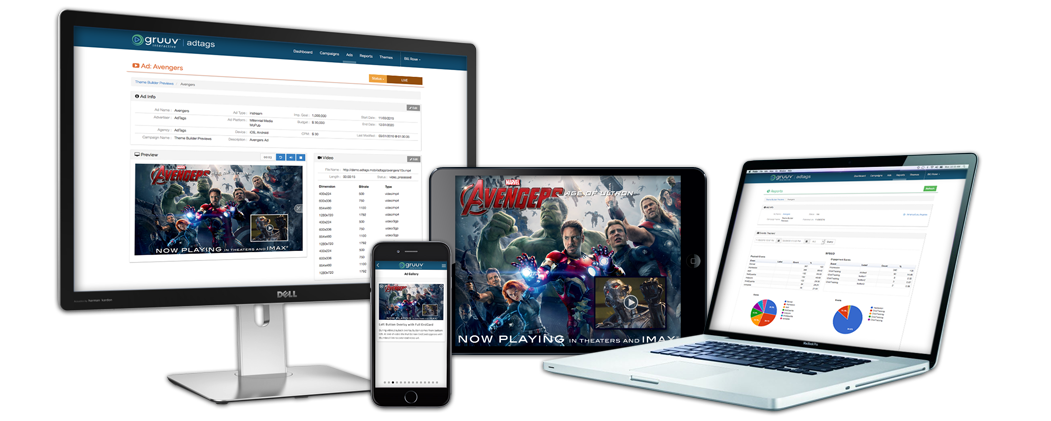 Video Ad Builder Features
Build a high-impact video ads for your next ad campaign OR leverage Gruuv as bolt-on video ad product suite. Gruuv simplifies mobile video advertising so you can focus on ROI, not adtech.
Popular Video Ad Formats
Access a variety of pre-tested high interactive video ad formats for In Stream, Pre-Roll, Interstitial, Mobile Web, Native and In Feed placements. Or easily add your own custom ad units. It's a plug-in, ready-to-sell video ad product line.
Drag-n-Drop Ad Builder
No complicated design tools to learn. Just drag and drop your creative assets into one of our many popular or custom ad formats, grab the auto-generated ad tags and you're done.
VAST, VPAID, MRAID, HTML5 Formats
Auto-generates mobile ad tags in all industry standard formats. Gruuv's rigorous inventory certification ensures your ad will play on most ad networks, SDKs, even Desktop.
Works Inside Your Console
Embed access to the Builder inside your own ad trafficking or programmatic buying UI. Build video ad creative and transfer ad tags faster and more efficiently from within your existing workflow.
Gruuv Mobile App
View a gallery of video ad units, monitor your campaigns and see how your ads performs on 3rd party ad SDKs. Rebrand the app with your logo to use as a sales tool.
Rich Reporting
Track more than just clicks and impressions. Every view, quartile, touch, swipe and custom gesture is tracked in the reporting dashboard. Includes full VPAID and MRAID event reporting.
IAB Standards
Gruuv fully supports and leverages IAB industry standards VAST, VPAID and MRAID to create and deliver all our video ads, ensuring they playback, render and report correctly when served across the fragmented mobile ecosystem.
Built for Mobile
Our platform was built from the ground up to flexibly support mobile and multiscreen video ad delivery across non-homogenous networks, apps and connected devices. No retro-fitted desktop adtech or proprietary APIs here!
Making Mobile Easy
Our mission is to help Marketers overcome the challenges of mobile adtech. Our technology simplifies and automates the creation and delivery of interactive mobile video, ensuring reliable rendering and playback on a multitude of screens.